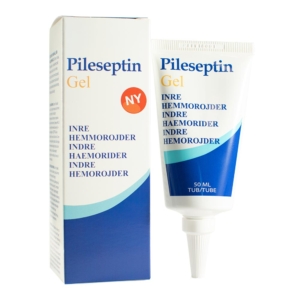 Pileseptin is a treatment against hemorrhoids which is designed to reduce edema, pain, inflammation, and the size of the lesion without any irritation or side effects. Pileseptin is a non-prescription MedTech product consisting of natural ingredients and extracts, aimed to speed up the healing.
Pileseptin is available as a gel (for internal hemorrhoids) and as a spray (for external hemorrhoids).
Compared to other products, Pileseptin not only treats the symptoms but also the underlying cause.
More than 15 years of research form the basis for Pileseptin Spray and Gel.

Patent protected and registered in Europe

Manufactured according to GMP/ISO 13485
Patient leaflet
Pileseptin Gel is available at:
Warnings and precautions
Use the product according to the recommendations written on the package. Contact us if you have any questions about the product, complaints, or you want to report side effects from Pileseptin Gel:
Drugsson AB
Virdings Allé 32 B
754 50 Uppsala, Sweden
info@drugsson.com